Touristic information
The History and Culture of Bologna, Italy

There has been a settlement at Bologna since the 10th Century BC. The Etruscans lived in Bologna (then called Felsina) from the end of the 6th Century to the middle of the 4th Century, when it passed to the Gauls.
The Romans defeated the Gauls in 191 BC and founded the colony of Bonomia along the Via Emilia.
Traces of the Roman city can still be seen under Via Rizzoli and Sala Borsa, and numerous ancient artifacts from all stages of the city's development are displayed at the Archeological Museum.
During the Middle Ages, Bologna became a free city.  Bologna's golden era was the 13th Century, when it flourished and grew significantly, thanks to the university, which is the oldest in Europe. 
By the end of the 13th Century, Bologna was one of the top ten cities of Europe. Today, Bologna has become a great industrial and cultural centre, so much so that it earned the title of European Capital of Culture in 2000.
The Fountain of Neptune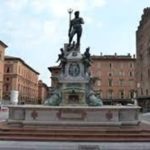 The fountain was commissioned by Cardinal Legate Charles Borromeo to celebrate his uncle being elected as Pope Pius IV.
An entire building was demolished to make space for the fountain.
The fountain was designed and created by the Palermitan architect Tommaso Laureti in 1563, and completed in 1565.

The Two Towers: Garisenda Tower and Asinelli Tower
The two towers are commonly recognized as symbols of Bologna, and are located in the heart of the city, at the point where the ancient Via Emilia entered the city.
They were built during the Middle Ages, and had a military function.  Designed to impress, they were a magnificent reminder of the status, wealth and power of the families who commissioned them.
Two scientists, Giovanni Battista Riccioli and Giovanni Battista Guglielmini, used Asinelli Tower to conduct experiments investigating the motion of heavy bodies and the earth's rotation.
Asinelli Tower has recently been restored, and is the only tower open to the public.
Literary References to The Two Towers
Giosuè Carducci wrote a poem about The Two Towers as part of "The Barbarian Odes", and Charles Dickens wrote about them in his "Pictures from Italy".
Asinelli Tower is mentioned several times in Dante's "The Divine Comedy" and "The Rime", and  in Goethe's "Italian Journey".

The Basilica of San Petronio
The Basilica of San Petronio is a minor basilica and church in Bologna, and dominates Piazza Maggiore. It is dedicated to Saint Petronius, the Patron Saint of the city, who was Bishop of Bologna in the 5th Century. Construction began in 1390 and the building's main façade took many years to complete. In 1929, the building was transferred from the control of the city to the Diocese, and it was finally consecrated in 1954.
 
Piazza Maggiore
In 1860, Piazza Maggiore was dedicated to King Vittorio Emanuele II, and a statue of the king on horseback was erected. In 1943, the statue was moved to the Giardini Margherita, where it can still be found today. From 1943 – 45, the square was known as Piazza della Repubblica, when it was re-named Piazza Maggiore. 

The Salaborsa
The main public library in Bologna is called The Salaborsa.
In 2001, the administrative offices of the public library were moved into the northern side of Palazzo d'Accursio beside the Piazza del Nettuno, which is just north of the Piazza Maggiore.
An archaeological site is visible through a glass floor in the centre of the library. Ancient ruins can also be accessed at the basement level of the building, where information about them is available.
The ruins beneath the library include remains from the ancient city of Bononia, which dates back to 189 BC. 
There are also Etruscan ruins on the site, which pre-date the Roman ones.  

Installation on the Holocaust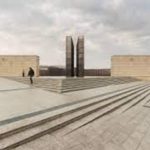 Built in less than two months, the Memorial is a striking landmark of great emotional power. It is located at a prominent position at the intersection of Via dé Carracci and Ponte Matteotti, attracting passers-by and inviting them to reflect on the tragedy of the Holocaust. Walking along the path, you feel a strong sense of oppression.  Inside the Memorial, the boxes represent the cells of the dormitories in the concentration camps. As the years go by, corrosion will bear witness to the passing of time. In the daytime, when the square is lit by the sun's rays, the passage is bathed in a dim light, encouraging a contemplative mood. At night, strategically-placed artificial lights illuminate the contours of the Memorial, highlighting its stark structure.
 
MAMbo
The Museum of Modern Art in Bologna (MAMbo) is one of Italy's most important museums of modern and contemporary art. It was established as a separate entity in the mid-90's, when the collection of the Gallery of Modern Art in Bologna grew so large that new space was needed for collections and exhibitions of contemporary art. MAMbo is home to The Bologna Museum Institution, which focuses on contemporary artistic research.  It also houses permanent collections and temporary exhibitions. 
It has a library and a bar/restaurant.
  
The Freedom Memorial Museum
The Freedom Memorial Museum offers visitors a complete immersion experience with five multi-media scenes which make viewers re-live the events leading to the end of World War II.
The five scenes are dedicated to:
The rounding up of a refugee in a rebuilt city,
The bombing of the city,
The battle of Porta Lame
The Decima Da Montagna.
The museum also hosts an exhibition of over 50 military vehicles of historical interest.
 
Other Tourist Attractions
MONUMENTS
Installation on the Holocaust
The Fountain of Neptune
The Two Towers: Garisenda Tower and Asinelli Tower

PLACES TO VISIT
The Basilica of San Petronio
The Piazza Maggiore
The Sala Borsa
The Basilica of Santo Stefano
The Sanctuary of Madonna di San Luca
The Municipal Library of the Archiginnasio
The Palazzo Archiginnasio
The Palazzo d'Accursio
The canals of Bologna
The Arcades of San Luca in Bologna
The Sanctuary of Santa Maria
The Pincio
The Palazzo Fava
The Little window on Bologna's canals of via Piella
The Seven churches in Piazza Santo Stefano
MUSEUMS
MAMbo (Museum of Modern Art of Bologna)
The Freedom Memorial Museum 
The Museo Civico Archeologico
The Medieval Civic Museum
The Virtual Reality Museum - The Time Machine
The Civic Museum of the Risorgimento in Bologna
The Museum of the Resistance of Bologna
The Zoology Museum 
The Palazzo Albergati
The Casa Carducci
The History Museum of Bologna