SHOPPING, WINING AND DINING
SHOPPING, WINING AND DINING
Near the Arena del Sole Theatre are restaurants, cafes and souvenir shops where you can relax before or after a show.
First of all our bar Cantinella in the cloister of the theater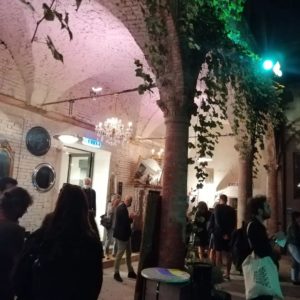 Open on
Friday: 18:00 - 00:00
Saturday: 18:00 - 00:00
Sunday: 15:00 - 21:00
and before the shows
If you want a good coffee which won't break the bank, try Impero on Via dell'Indipendenza 39, just five minutes from the theatre.
Young people may particularly enjoy American coffee and doughnuts at 12 oz on Via dell'Indipendenza 37B.
Fancy an aperitif before or after the show? Nearby you can find: Twin Side, Via de' Falegnami 6, Dal Sarto Via Augusto Righi 12/B.
If the show ends quite late and you're feeling peckish, don't worry! You can go to the La Montanarina Bistrot on Via Righi 13, which is normally open until around 1 am.
Last but not least, if you love ice cream, you must go to Gelateria Galliera 49, on the same street.
For dinner or lunch, there is a wide choice of restaurants nearby, at prices to suit all pockets.  
On a budget? Try Bottega Portici on Via Indipendenza 69, (perfect if you want to eat something typically Italian), or White Bakery on Via delle Moline 16 - a restaurant that offers typical American dishes, if you're not a fan of Italian food.
If you're happy to splash out, at Ristorante Donatello on via Augusto Righi 8, and Trattoria del Rosso on Via Righi 30a you can enjoy delicious regional dishes.
Need somewhere to sleep?  We have got that covered for you.
The lower price option is a little bit further away from the theatre, but very reasonably priced.  It's the B & B Casa Faccioli, Via Caduti di Cefalonia, 2.  You could also try the Hotel NH in XX Settembre Square.
The luxury option is the Hotel Tre Vecchi on Via dell'Indipendenza 47.
Finally, if you want to buy something typical of Bologna, then the perfect shops to visit are La Coroncina, Via dell'Indipendenza 3 and Drogheria della Pioggia, Via Galliera, 27. there is also the store of a farmer in via Galliera 31. The latter is a unique option, and a chance to eat locally grown fresh fruit and vegetables with virtually no food miles.